Bothenhampton Village
Events at the Village Hall for February 2018
---
Fab Feb Variety Show
Saturday 10th February 2018
Starts 7.30pm
Tickets £7 from Pennie (458006) to include a light bite.

Please bring your own liquid refreshment.
---
Bothenhampton Village Hall Film Show
Saturday 17th February 2018
Starts 7.30pm doors open 7pm
My Cousin Rachel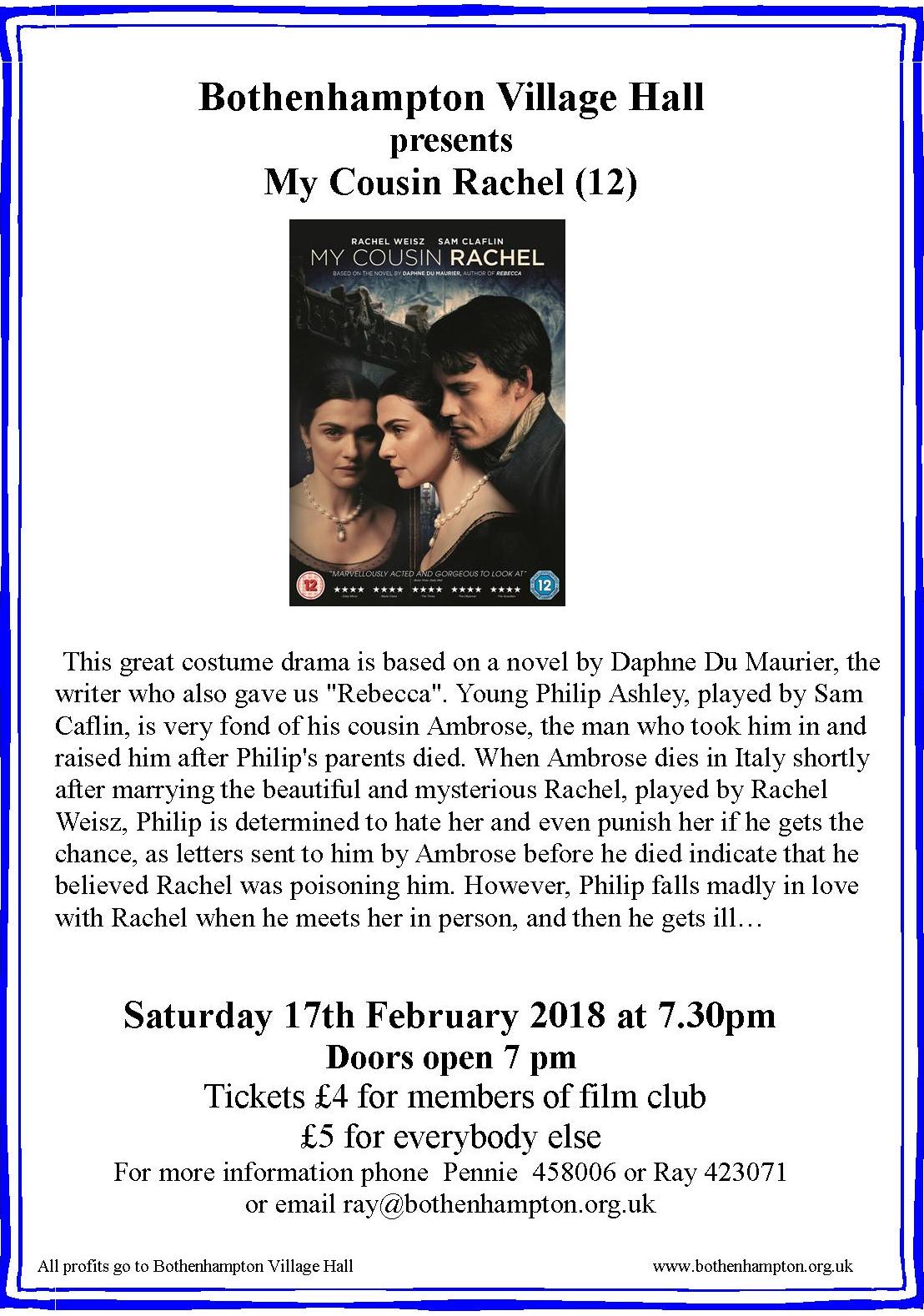 The poster shows this month's film.

Here are the films that will be shown next

Victoria and Abdul Will be shown on Sat 17th March

Murder on the Orient Express Will be shown on Sat 21st April


Reviews of My Cousin Rachel from Amazon:-


A superb rendition of Daphne du Maurier's sinister story of the mysterious Rachel - did she or didn't she? - this film offers a good story, a faithful adaptation of the novel (the end is made rather more dramatic), and good performances, especially from the often under-rated Rachel Weisz as Rachel. The youthful naiveté of the protagonist, Philip, is perfectly captured by Sam Claflin, an up-and-coming actor who excelled in various TV series ('Pillars of the Earth', 'Any Human Heart') and has appeared in fantasy films such as 'Snow White and the Huntsman' and 'The Hunger Games - Mockingjay'. The youthful quality of Philip is an essential plot device, set against the worldly sophistication of Rachel, and the tension between the two is beautifully maintained throughout the film. The supporting cast, especially Holliday Grainger as Louise, Philip's best friend before Rachel appears, are excellent. This is a most enjoyable drama and will not disappoint du Maurier's fans.

Oo~~~~~~~~~~oO

What a beautiful film this is! A period piece shot in stunning locations in Cornwall and Italy, and with a superb cast and a lovely musical score, this film did not disappoint when I saw it in the theatre.

The story is told by Philip, a young man whose cousin and guardian dies abroad not long after marrying the woman Rachel. Philip, having received letters in which his cousin mentions a suspicion that his wife may be poisoning him, feels bitter hatred towards the woman and swears revenge. However, when she arrives in England and he meets her in person his feelings towards her change and he falls passionately in love with her. And while he is too young and inexperienced to see the signs of her rejection, the doubt as to weather she has caused his cousin's death is always present in his mind.

Rachel Weisz is magnificent as the eponymous heroine of the film. She is bewitching in her beauty, she is poised and enigmatic as the mature widow. Never once does she let her poise slip in front of young Philip, only we, the audience, are allowed to steal a glimpse at her real feelings. What a performance!

The supporting cast is superb. Holliday Grainger gives a beautifully restrained performance as Louise, Ian Glen is flawless as Nick Kendall, and Simon Russell Beale makes an appearance as the family lawyer. If you like period drama and good acting where every word, even a whisper, is clearly understandable, you should find a lot to like about this one. Highly recommended.

Oo~~~~~~~~~~oO
Tickets £4 for members of film club, £5 for everybody else.
Join the Film Club for £5 a year.
Advantages are admission to films £4 instead of £5. At least 10 films a year.
You will be sent details of the next film by email or letter.
You can suggest films that you want to watch.
Contact Pennie 458006 or Ray 423071 for more information.
---
Plus all the usual events Meditation, Guides, Brownies, Art Group, Yoga, Pilates and RI Club.